---

Robin Bell Books
Advanced My Adventure Series
with the Loch Ness Monster
---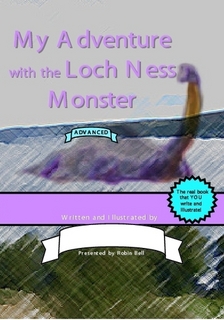 First edition - ISBN 978-91-981283-5-2 - 68 pages - 5.83in x 8.26in paperback
For young authors and artists who have grown beyond classic My Adventures, Advanced My Adventure early reader / chapter books are intended for children ages eight to eleven. The familiar blanks in the story are still there, as are periodic open spaces for artwork, but now the topics are more detailed, the stories longer and the ideas more vast and varied. Just as classic My Adventures gave a child the feeling of publishing their own picture book, older creators will be inspired to hold their own real book in their hands.
Is there a future novelist or scholar in your household?
Let Advanced My Adventures help you find out
Commissioned by a newspaper
Travel to Scotland
A rude awakening
Was it the Monster?
Castle Urquhart
A meeting with Hector
Night-time on the Loch
A storm
Capsized!
Into the depths...
Saved
An underwater cave
Riding a monster
Was it a dream?
A tough decision
What an adventure!.
---
You can purchase this book directly from

Just click here or, if you prefer, click here to buy from Amazon (US) or here for Amazon UK


---